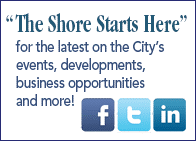 HISTORIC PRESERVATION COMMISSION
Contact: Donna Mohr
Email: donnajmohr@comcast.net
The Somers Point Historic Preservation Commission was established by the City Council of Somers Point through Ordinance 20, 1992. It generally consists of nine members – 7 regular members and 2 alternates who are appointed January of each year by the Mayor of Somers Point. The Commission is an advisory board to the Planning and Zoning Boards.
All meetings held are open to the public and are subject to the Open Public Meetings Act. Meeting dates can be found below by clicking the link and agendas are available to the public a week prior to each meeting. Minutes of each meeting are on file at the City Clerk's Office and are also available to the public upon request.
The Historic Preservation Commission Members: Year 2019
Tara McGinnis
Donna Mohr
Levi Fox
William Reinert - Regular Member
Marian McVeigh - Regular Member
Greg DiSabatino – Reg. Member
Patricia Pierson – Regular Member
ALTERNATES
Lois Gregory (Alt. No. 1)
Natalie Bailey (Alt. No. 2)

The Historic Preservation Commission generally meets the 2nd Wednesday of each month in City Hall starting at 7:00pm.
CLICK HERE Agenda (March 2010)
CLICK HERE Agenda (April 2010)
CLICK HERE Agenda (May 2010)
CLICK HERE Agenda (June 2010)
CLICK HERE Agenda (July 2010)
CLICK HERE Agenda (October 2010)
CLICK HERE Agenda (November 2010)
CLICK HERE Agenda (December 2010)
CLICK HERE Agenda (February 2011)
CLICK HERE Agenda (March 2011)
CLICK HERE Agenda (September 2011)
CLICK HERE Agenda (November 2011)
CLICK HERE Agenda (February 2012)
CLICK HERE Agenda (June 2012)
CLICK HERE Agenda (September 2012)
**October 10, 2012** Meeting to discuss signage at 814 Shore Road
**Ocotber 14, 2012** Meeting Canceled


** December 12, 2012** Meeting Canceled

CLICK HERE Agenda (March 2013)
CLICK HERE Agenda (May 2013)
CLICK HERE Agenda (June 2013)
CLICK HERE Agenda (April 2014)
CLICK HERE Agenda (June 2014)
CLICK HERE Agenda (July 2014)


CLICK HERE for the Somers Point Developmental Code:

Chapter 114 –Developmental Regulations
Article XI – Bay-Front District
Article XVI – 114-97 – Somers Point Historic District
Article XXVIII – 114-202 – Somers Point Historic Preservation Commission
CLICK HERE for the Historic Preservation Commission Meeting Schedule
CLICK HERE for a Letter of Introduction
CLICK HERE for an Open Public Meetings Act Notice
CLICK HERE for an Initial Application
CLICK HERE for an Application for Certificate of Appropriateness