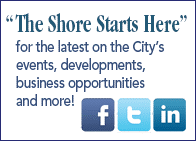 OFFICE OF THE CITY CLERK
The City Clerk/Registrars Office is closed.
Per State Law Marriage License applications are not being processed until further notice.
If you need a certified copy of a birth, death or marriage certificate you can apply through the NJ State Registrar's office.
Please be advised that due to COVID-19 and limited staff, the State Registrar is not accepting phone calls. Please direct all questions for the State Registrar to records@doh.nj.gov
Application and instructions can be found on their website at www.nj.gov/health/vital
Applications can be done online through their website or mailed to the State Registrar at:
NJ State Registrar
P.O. Box 370
Trenton , NJ 08625
Processing time is approximately 4 weeks.
Please check the above listed website for required forms of identification as well as payment options.
City Hall
1 West New Jersey Avenue
Office Hours: 9:00am ~ 5:00pm
Telephone: 609-927-9088
Fax: 609-926-3016
Monday ~ Friday (Excluding Holidays)

Lucy R. Samuelsen RMC/CMR: City Clerk/ Registrar of Vital Statistics
Shelby R. Heath RMC/CMR : Deputy City Clerk

Emerald L. Hornig RMC/CMR : Assistant City Clerk

The City Clerk's Office is considered the "hub" of the community providing a wide variety of public services, some of which are listed below. The City Clerk's Office is also the Bureau of Vital Statistics. The City Clerk's Office is responsible for the following:
Providing Administrative Support to the Governing Body
Records Official Minutes of the Governing Body
Processes, records, files, and advertises Ordinances, Resolutions, the Budget, and bids for goods and services.
Administers and records Oaths of Office
Handles liaison work between the public and the Governing Body
Handles Municipal Correspondence
Maintains custody of all Official Records not specifically handled by other Departments
Administers Dog/Cat Licensing Program
Administers Mercantile License Program
Vital Statistics (birth, marriage, civil union, domestic partnership, death)
Maintains OSHA logs
Claims Coordinator for the City including Workers' Compensation, General Liability, Auto Loss and Property Loss
Custodian of Records for the City of Somers Point
Responsible for handling OPRA Requests
Prepares Ordinances for Codification (Please click here for City Codes)

CLICK HERE for APPLICATIONS/REGISTRATIONS/FORMS
Animal Cruelty Materials - Relating to Pet Licensing

*** Birth Certificate Pick Up: Mon, Wed, Fri 9:00am-12:00pm ***
Please call the Office of the City Clerk to learn more: 609-927-9088
Government Public Record Act Request please call City Clerk's Office 927-9088
Voting Districts and Polling Places
| | |
| --- | --- |
| Ward 1, District 1 | American Legion, First & Pennsylvania |
| Ward 1, District 2 | VFW, Bethel Road |
| Ward 1, District 3 & 4 | Bethel Road Fire House, Bethel Road |
| Ward 2, District 1 & 2 | Jordan Road School, Jordan Road |
| Ward 2, District 3 & 4 | Senior Citizen Building, Ambler and Massachusetts Avenue |
| | |
| | |