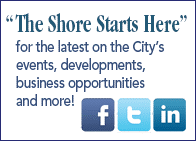 SOMERS POINT ARTS COMMISSION
The mission of the Arts Commission, as stated in Ord. #13-2006 and in Resolution #99-2013 is to provide, promote and cultivate the Arts in Somers Point through support and coordination of community services and such additional functions, purposes and goals as may from time to time be determined by City Council resolution.
The Arts Commission consists of 10 members who are appointed by the City Council by Resolution at the January reorganization meeting each year or at any subsequent regular meeting in January of each year.
The Arts Commission members for 2019
Kathleen Arleth
Karen Sutherland
Dan Meyers
Donna J. Mohr
Christine Toland Ulrich
Kimberly Bray
Lois Hirschman Gregory
Karen Cleighton
Vacancy
The Arts Commission meetings are held on the 2nd Tuesday of each month T 6:00PM at the Somers Point Historical Museum. (Subject to change).
Minutes are taken at each meeting and on file at the City Clerk's Office and are available to the public upon request.
Resolution #99-2013 passed by City Council agreed reactivate the Arts Commission and to support the Arts Commission Project - the planning, creation and installation of a mural commemorating the life and times of Master Commandant Richard Somers on the outside walls of the Somers Point Branch of the Atlantic County Library System: The Richard Somers Mural Project: The Art of "His"story.
The Mural project is being funded by grants, corporate sponsors and private donations to the Somers Point Arts Commission or to the Somers Point Historical Society (501c3) through www.somerspointhistory.org – donation prompt.
Somers Point Arts Commission Links
Somers Point Arts Commission Documents
2019
Agendas
Contact person – Kathleen Arleth – katharleth@hotmail.com