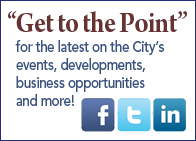 DEPARTMENT OF ADMINISTRATION
City Hall
1 West New Jersey Avenue
Somers Point, NJ 08244
Office Hours: 9:00am ~ 5:00pm (Excluding Holidays)
Jason Frost, City Administrator
Telephone: 609-927-9088 X-136
Fax: 609-927-4014
Ashley Mathers, Confidential Assistant to the City Administrator
Telephone: 609 927 9088 ext: 137

The Department of Administration is responsible for the day-to-day operations of the City of Somers Point. Department Heads from all sects of the municipality report to the Administrator. The Department's primary duty is to make sure all of the services needed are provided to the residents of Somers Point. The Administrator and the department implement policies and procedures set forth by the governing body.