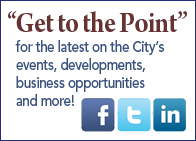 COMMUNITY PROFILE
About our Community
The City of Somers Point, originally known as Somerset Plantation, is the oldest settlement in Atlantic County, dating back to 1693. This four square mile attractive town is located in the eastern portion of Atlantic County in what was once known as Great Egg Harbor. Somers Point was first incorporated as a borough in 1886. At that time the voting population was 48.
The city is approximately ten miles south-west of Atlantic City, and 60 miles south-east of Philadelphia. The city is bordered on the east and west side of Egg Harbor Township and to the north of the City of Linwood. Three bridges join Somers Point to Cape May County on its southerly border; they are the Beesley's Point Bridge (currently closed), the Garden State Parkway Bridge, and the Rt. 52 Bridge into Ocean City.
Somers Point is primarily a residential community with a relatively large proportion of its residents employed in professional services or executive positions in Somers Point and neighboring communities.
Shore Medical Center is Somers Point's largest employer, providing more than 1,500 jobs directly, and thousands more indirectly through partnerships, affiliations, and a concerted effort to use vendors from Somers Point whenever possible. Shore is much more than a community hospital; with Shore Physicans Group, Shore Urgent Cares, Shore Quality Partners, and its affiliations with Penn Medicine, Mayo Clinic Laboratories, St. Christopher's Children's Hospital, Jefferson Neuroscience Network, and the Rothman Institute the Somers Point community has convenient access to high quality care like never before.
Because of Somers Point's location on the Great Egg Harbor River bay-front, it is known for its marinas, boating, and numerous fine restaurants. Somers Point also has a vast variety of small and large businesses located throughout the community, including many medical professional offices as a result of the location of Shore Medical Center.