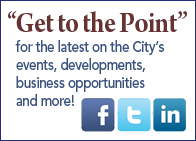 CITY SERVICES
Emergency Medical Services
The City contracts out an emergency medical response team available to all residents on a 24 hour/7 days a week basis. The current contractor is the Shore Medical Center and all members are certified emergency medical technicians.
Water and Sewer
New Jersey American Water Company provides water service, and the City provides sewer service to virtually the entire City. The City collects and pumps the sewage to facilities operated by the Atlantic County Utilities Authority, and pays the County for treatment and disposal.
Transportation
Somers Point is accessible by land via the Garden State Parkway, a major north-south artery, which is adjacent to the City and provides access to New York City, and via the Atlantic City Expressway, which is seven miles distant and leads directly to Philadelphia. The Parkway going south provides access to the historic beach resort of Cape May City as well as connects to the Cape May Lewes Ferry service. The Ferry provides a convenient, modern method of crossing the Delaware Bay to points south.
The Atlantic City International Airport approximately 20 miles distant from Somers Point provides both commuter and regular air travel to all major cities on the East Coast.