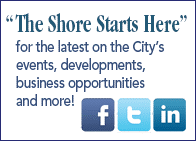 CITY COUNCIL

Dennis Tapp, 2nd Ward
email: dtapp@spgov.org
Second Ward Councilman Dennis Tapp was elected to City Council in November of 2010. Dennis also served from 2004-2006 as a Council Member. Councilman Tapp is on the Personnel Committee and is the liaison to the Recreation Board.
Dennis has previously been a member of the Somers Point Recreation Board and has been a coach for youth athletics in Somers Point for close to two decades. Dennis has been a proud member of the International Brotherhood of Electrical Workers Local 351 for 34 years. He and his wife Cheryl have three children, Ryan, Ian and Taylor.
---

Council President Sean McGuigan, 1st Ward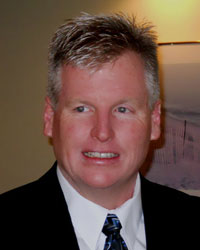 email: smcguigan@spgov.org
Sean moved to Somers Point in 1989. He married his wife, Teresa, in 1990 and they have three children, Riley, Colin, and Erin.
Sean has a Bachelor of Science degree in mechanical engineering from Penn State University. He is a construction estimator for Falasca Mechanical, a major mechanical contractor. He has been with the firm since 1990.
Sean has been have heavily involved in the community, particularly youth activities. He served a baseball coach for eleven years and a member of the Somers Point Little League executive board. He has coached with the Somers Point Sharks Football organization and served as their Vice-President. Sean is also a street hockey coach and Vice President of the Somers Point Street Hockey Association.
In addition to those activities listed, Sean is also the Chairman of the Somers Point Good Old Days Festival.
Sean is an avid surfer and enjoys spending time at the beach. He also enjoys traveling with his family. Sean was named the Somers Recreation Volunteer of the Year in 2001 and was elected to City Council in 2007.
Sean prides himself on being very accessible to the citizens of Somers Point. His personal cell phone number is 609-402-5062.
---
Councilman Kirk Gerety, 1st ward
email: kgerety@spgov.org
---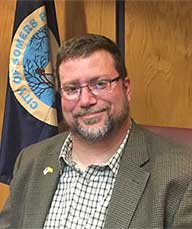 Councilman Ron Meischker, 1st Ward
email: rmeischker@spgov.org
Councilman Ron Meischker was appointed by City Council to fill a vacant first ward council seat in September of 2017 and was subsequently elected to a three year term in November 2018.
Prior to being appointed to council, Ron served as the Chairman of the City's Zoning Board of Adjustment, on the City's Recreation Commission and as a member of the Economic Development Advisory Commission. He also serves as the City's Harbormaster. He was selected as the City's Recreation Volunteer of the Year in 2016 for his environmental cleanup initiatives and recreational promotion of the bays and rivers in and around Somers Point.
Ron is Director of Business Development for Fabbri Builders Inc. of Vineland, New Jersey.. He is also the founder of the Patcong Creek Foundation, a 501c3 charitable organization, and organizer of the largest crabbing tournament in the United States, the Assault on Patcong Creek, which takes place annually in Somers Point.
Ron has lived in Somers Point since 2009. He welcomes members of the public to call him with questions, concerns or suggestions at 609-517-2531.
---
Councilman James Toto, 2nd Ward
email: jtoto@spgov.org

James "Jim" Toto moved to Somers Point in 2004, while serving as a United States Federal Air Marshal. He worked as both a "flying FAM" and an instructor of hand to hand and close quarter combat. After leaving the Air Marshals, he worked as a Field Engineer/Project Manager for DY Consultants, out of New York. Jim covered everything from Mercer County Airport over to Lakewood and south. He helped to rebuild Hammonton Airport, Woodbine Airport, Mercer County Airport and Lakewood Airport. Jim was then recruited to worked as the Assistant Manager of Columbia Air Services at Monmouth Executive Airport, before the economy took a turn for the worst. He currently works as a Supervisor, in the Public Works Department for Ocean City. His diversified background has made him an asset to Somers Point.

Since moving to Somers Point, Jim has coached baseball and football for Somers Point, helped to start the non-profit group Lawson's Pride of Somers Point and has been active in the City's veteran groups. He serves as the liaison to the Green Thumb Garden Club, Recreation Board, COAH, the veteran's groups and the Green Team.

He has proudly served in the U.S. Army in Psychological Operations, under the Special Operations Command, the Federal Air Marshals, Ocean County Planning Board, Somers Point Planning Board and several volunteer organizations. He was a professional boxer out of Atlantic City in the heavyweight division, professional helicopter pilot and instructor, single engine land and sea airplane pilot, volunteer fire fighter in Lawrence Twp, CDL driver and he even has a boat license.

Jim married his wife Beverly on our Somers Point Beach, in September,in the summer of 2017. He has three children, Christian, Eleni and Georgia. He also has two rescued dog named Howard and Jake!
---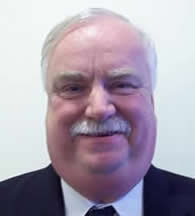 Councilman Howard Dill, 2nd Ward
email: hdill@spgov.org
Howard Dill was elected as a Second Ward Councilman in November of 2009. He currently serves on the City Council's Budget and Finance Committee and operates as the liaison to the Public Works Department.
Howard was previously the Superintedent of Somers Point Public Works as well as the chairman of the Somers Point Board of Education.
Howard currenlty is an instructor at Rutgers University's Bloustein School of Planning and Public Policy. He and his wife Jessie have been married for close to four decades and have three children, Howard Jr., Rick and Rebecca.
---
Councilman Carl D'Adamo, Councilman At Large
email: cdadamo@spgov.org