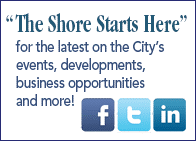 MAYOR JACK GLASSER
email: jglasser@somerspointgov.org
609-927-9088 X-121
Mayor Jack Glasser has been a resident of Somers Point for the past 42 years. He and his wife, Diane, children Jack and Christine reside on Second Street.
Mayor Glasser is a veteran of the United States Air Force and is retired as a Master Sergeant of the New Jersey Air National Guard's 177th Fighter Wing, the famed "Jersey Devils". Mayor Glasser also served with distinction for 25 years with the Northfield Police Department, retiring in 2002 with the rank of Captain.
Mayor Glasser is a member of the St. Joseph Knights of Columbus and a Eucharistic Minister.
Mayor Glasser has volunteered his time as a basketball coach, Bay-fest committee member and was the co-chairman of security for the Miss America Pageant.