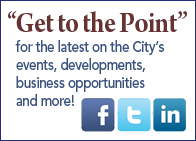 ECONOMIC DEVELOPMENT ADVISORY COMMISSION
Live In Somers Point (WEBSITE)
The Economic Development Advisory Commission consists of nine regular members. It was formed to advise City Council of future and current conditions of economic development in the City of Somers Point. The primary purpose of the Commission is to market the economic strength of the City, in order to provide stability with our existing businesses while encouraging future development with City limits.
Economic Development Advisory Commission Members: Year 2017
Maria Deaver
Glenn Monroe
Greg Sykora
Mario Swarez
Ron Meischker
Sue Seckinger
Ron Ralston
Tay Person
Nichol Hoff
Catherine Chamberlain - Advisory Member
Nichol Hoff - Advisory Member
EDAC will be meeting at the Dawes Avenue School Library every fourth Monday at 6:00 p.m. (Located at 22 W Dawes Ave, Somers Point NJ 08244) meetings on file at the City Clerk's Office and are available to the public upon request.
2017
January 2017 - Agenda - Minutes
February 2017 - Agenda - Minutes
March 2017 -Agenda - Minutes
April 2017-Agenda - Minutes
May 2017-Agenda - Minutes
June 2017-Agenda - Minutes